Oculus Quest 2 vs. Oculus Rift S: Which VR Headset Should You Buy?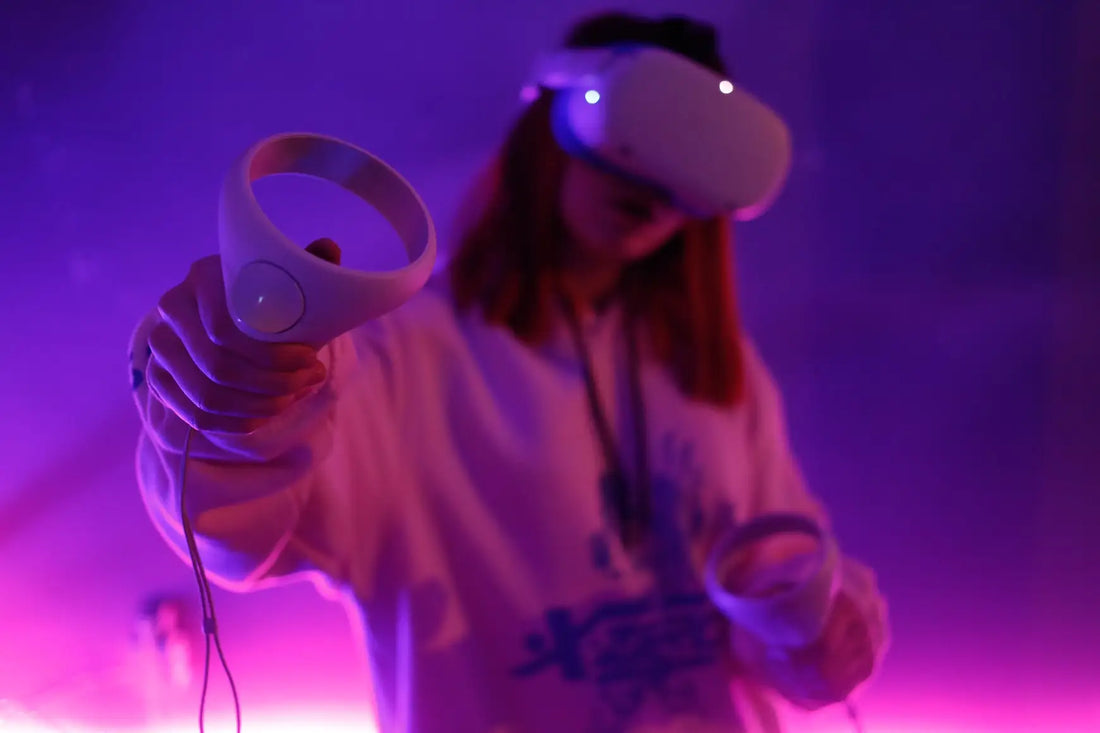 If you're looking for a quality VR headset, then you have two great options in the Oculus Quest 2 and the Oculus Rift S. 
It's true that both devices offer an amazing virtual reality experience, but there are some key differences that you should be aware of before making your purchase. In this quick guide, we'll outline the features of each device and help you decide which one is right for you.
Let's get into it.
What is the Oculus Quest 2?
The Oculus Quest 2 (now known as the Meta Quest 2) is a stand-alone virtual reality headset that doesn't require any additional equipment or a PC to run. It has a straightforward setup process, and it runs on the powerful Snapdragon XR2 processor, and offers 6GB of RAM. 
The Quest 2 has two high-resolution displays and works with Oculus Touch controllers, allowing you to interact with VR objects and experiences. You can also use the headset wirelessly if you choose, making it even more versatile.
What is the Oculus Rift S?
The Oculus Rift S is a PC-powered virtual reality headset that connects to your gaming rig via DisplayPort or mini DisplayPort. It has two high-resolution screens, a 110-degree field of view, and the Oculus Touch controllers. 
The Rift S also includes integrated headphones for 3D audio support, making it a great option if you want immersive gaming or movie-watching experiences in VR.
The Differences in Features
The main difference between the Oculus Quest 2 and the Oculus Rift S is that the Quest 2 is a stand-alone headset while the Rift S requires a PC to run. The Quest 2 also has better resolution than the Rift S, allowing for more immersive visuals. 
Additionally, the Quest 2 has built-in tracking cameras, allowing it to have inside-out tracking, meaning you don't need any external sensors.
The Rift S, on the other hand, still requires external tracking sensors for optimal performance.
Comparison of Prices
The Oculus Quest 2 retails for around $400 USD brand new, while the Oculus Rift S will set you back $399 USD, although you can only buy used versions of the headset since this model is no longer in production. 
While the price difference isn't huge, it may be worth considering if you don't have a gaming PC or don't want to invest in one.
Other Important Info and Alternatives
Taking everything into account, the chances are you'll want to opt for the Oculus Quest 2 VR headset. It's a little more expensive, but you can play it anywhere, even when you don't have a computer. Moreover, you can only buy the Rift S used since Oculus no longer manufactures that model.
What's more, most of the leading accessories that allow you to enhance and make the most of your VR experience are only available for the Quest 2.
For example, a Yogesvr head strap offers adjustable tension levels for comfort and ensures you have the best experience when playing games or watching movies in VR. This means you can enjoy even more comfort and an overall better gameplay experience.
The Oculus Quest 2 and Oculus Rift S both offer a unique virtual reality experience, but it's ultimately up to you to decide which one is right for you. Weigh your options carefully and keep in mind the differences in features, prices, and accessories available for each device before making your purchase. 
Once you have all the information, you can make an informed decision and get the best VR experience possible!
Happy gaming!