The Best Oculus Quest 2 Grips in 2023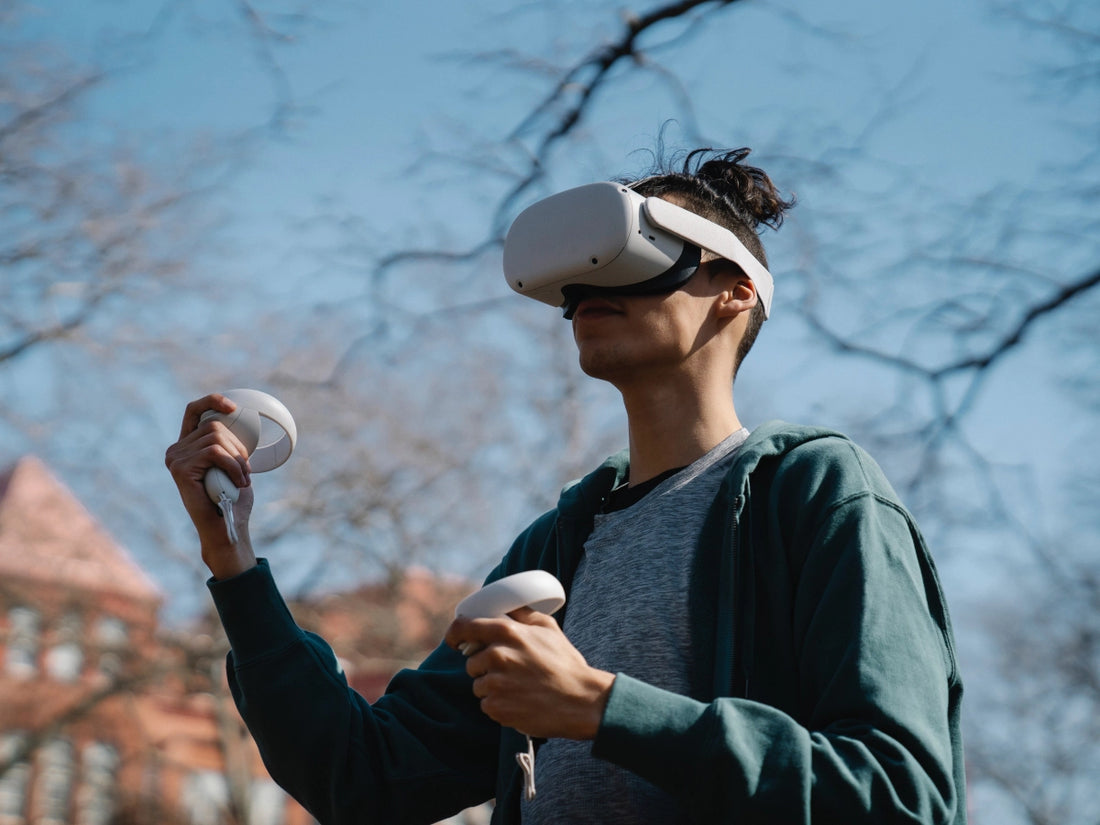 It's hard to believe that it's already been over two years since the Oculus Quest was released. Time flies when you're having fun! 
However, since the Quest 2 was released (and has now been rebranded as the Meta Quest), some phenomenal accessories have been released that take your VR experience to the next level. One of the best is the custom grips for the controllers that allow for the most immersive and responsive experience yet.
That's precisely what we're looking at in this guide: the best Oculus Quest 2 grips in 2023. 
So let's get started!
What is the Oculus Quest?
The Oculus Quest 2 is an immersive virtual reality headset released in October 2020. 
Using inside-out tracking and four cameras attached to the headset, it can accurately detect the user's environment without requiring any external sensors. It changed the game of what VR was capable of.
The device runs on a built-in Snapdragon 835 processor and allows players to access over 1,000 games and experiences out of the box. 
Of course, the biggest draw is that the device can be used wirelessly, letting users enjoy a truly untethered experience. The Oculus Quest is the perfect entry-level virtual reality headset for those who want to get their feet wet in VR gaming while offering enough to satisfy VR veterans.
What are the Oculus Quest 2 Controller Grips?
The Oculus Quest 2 controller grips are game-changing in enhancing your VR experience. 
The standard controllers that come with the Quest 2 are decent and provide accurate feedback while in-game, but it's not the best. Instead, using a custom grip can accurately enhance how precise your grip is and how accurate your movements are and ensure you remain comfortable during long gaming periods.
Long story short, custom grips provide natural agility and make it easier to control your device. 
The unique form factor eliminates the need for gloves and controllers; instead, they fit neatly into your hands, slightly adjusting size and shape depending on what type of game you're playing. Furthermore, they can be adjusted for those with small or large hands without sacrificing comfort or performance. 
The Oculus Quest 2 controller grips are a must-have for any serious gamer looking for an immersive experience!
Why should you use the Oculus Quest 2 Controller Grips?
As mentioned above, the Oculus Quest 2 controller grips are a must-have for anyone looking to have an immersive experience with their Oculus Quest 2 headset.
This is for many reasons, so let's take the YogesVR Quest 2 Controller Grips as an example.
With these grips, you can enjoy a VR accessory made from premium, soft silicone materials that maximize comfort and overall grip. These are coupled with leather knuckle straps that look good and protect your hands.
Ultimately, using these grips means you get ultimate control over your movements while in VR, giving you far more precision and accuracy and helping the whole experience feel much more realistic.
Think about what it's like to play your favorite games, like Bone works or Beat Saber. Accuracy is key, and when using the default controllers that allow for slippage and discomfort, you can immerse yourself as you should.
Types of Oculus Quest Grips
The Oculus Quest 2 accessory offers many grips to accommodate your play style or comfort levels. Depending on whether you're a casual or hardcore player, there's sure to be an option that meets your needs. It also depends on your budget.
The YogesVR Quest 2 Controller Grips are sure to tick all the boxes, no matter what you're looking for. 
Made from the best materials, designed with many adjustable features that allow the grips to fit as perfectly as possible, and with easy installation and uninstallation, you don't need anything else.
And with a no-hassle return policy, you can't make a bad decision.
When it comes to your VR grip, don't skimp out - go for the best of the best with YogesVR. 
Not only will you see a dramatic difference in comfort and accuracy but also in immersion. And what could be more important than that? So if you're looking for an upgrade from your current setup or are just starting to build your VR toolkit from scratch, check out YogesVR controller grips today. 
You won't regret it!
Happy gaming! 😁🚀🎮