Get Your Swing On with the VR Game Golf Handle for Oculus Quest 2! 
Never before has the game of golf been so realistic and immersive. With the VR Game Golf Handle, you can take your game to the next level. This state-of-the-art handle is designed to give you the most realistic golfing experience possible.
Take Your Game Golf Up a Notch Get ready to experience a whole new level of immersion with our YOGES Quest 2 golf club handle adapter. 
Compatible with Oculus/Meta Quest 2, this adapter is the perfect accessory for virtual reality golfing games such as Golf+, Golf 5 eClub, Walkabout Mini Golf, exVRience Golf Club, VR Baseball, and VR Tennis.
Just take a moment to think about it. Do you enjoy using the standard Quest 2 controller where you simply have it in your hand, or would you instead be using a controller that actually looks, feels, and swings like an authentic golf club?
With our adapter, you can use your Quest 2 to play golf in the most realistic way possible, which will, without a doubt, improve your game on the green, and you can guarantee some fun in the process!
Fully Immerse Yourself in the Golf Experience With its professional golf club grip and added weight from the controller, this Quest 2 golf handle will make you feel like you're really on the course. The latest secure mounting structure and a reinforced strap ensure that your controller stays firmly in place, so you can focus on your game without worrying about any accidents.
With an authentic-weighted design, this is one of the most accurate golfing simulations for the VR that you can enjoy at home. Add this handle to your Oculus Quest 2 setup, and feel like a pro!
Designed for Safety & Comfort Our experts have designed a dedicated special grip handle with universal compatibility in mind. Capable of being used by left and right-handed players, the club is constructed using non-slip sweat-absorbing silicone materials that you can entirely rely on.
Enjoy your game without worrying about slippage, and keep your gaming sessions comfortable for hours on end.
Click and Go Don't worry about faffing around and wasting time trying to get your VR accessories in the right place. 
With the Golf Game Handle, simply thread one end of the buckle strap through the hole at the top of the golf handle, place your Quest 2 controller onto the handle, wrap the other end of the buckle strap around your VR controller, and pull tight. Start your game in no time!
It doesn't matter where you plan on playing; your accessories can have your virtual golfing experience up and running in a matter of minutes.
Experience Golf Like Never Before Put yourself in the shoes of a pro golfer and enjoy an incredibly realistic golfing experience with our VR Game Golf Handle for Oculus Quest 2. Upgrade your gaming setup and get ready to take your game to the next level!
With dozens of five-star reviews from happy gamers worldwide, our name on the box, an affordable price tag, three different but equally gorgeous colors, and a 100% satisfaction guarantee, you can trust us to deliver an incredible virtual golfing experience.
Get your swing on today with the VR Game Golf Handle for Oculus Quest 2!
Happy golfing!
Regular price

$59.99

Sale price

$38.99

Unit price

per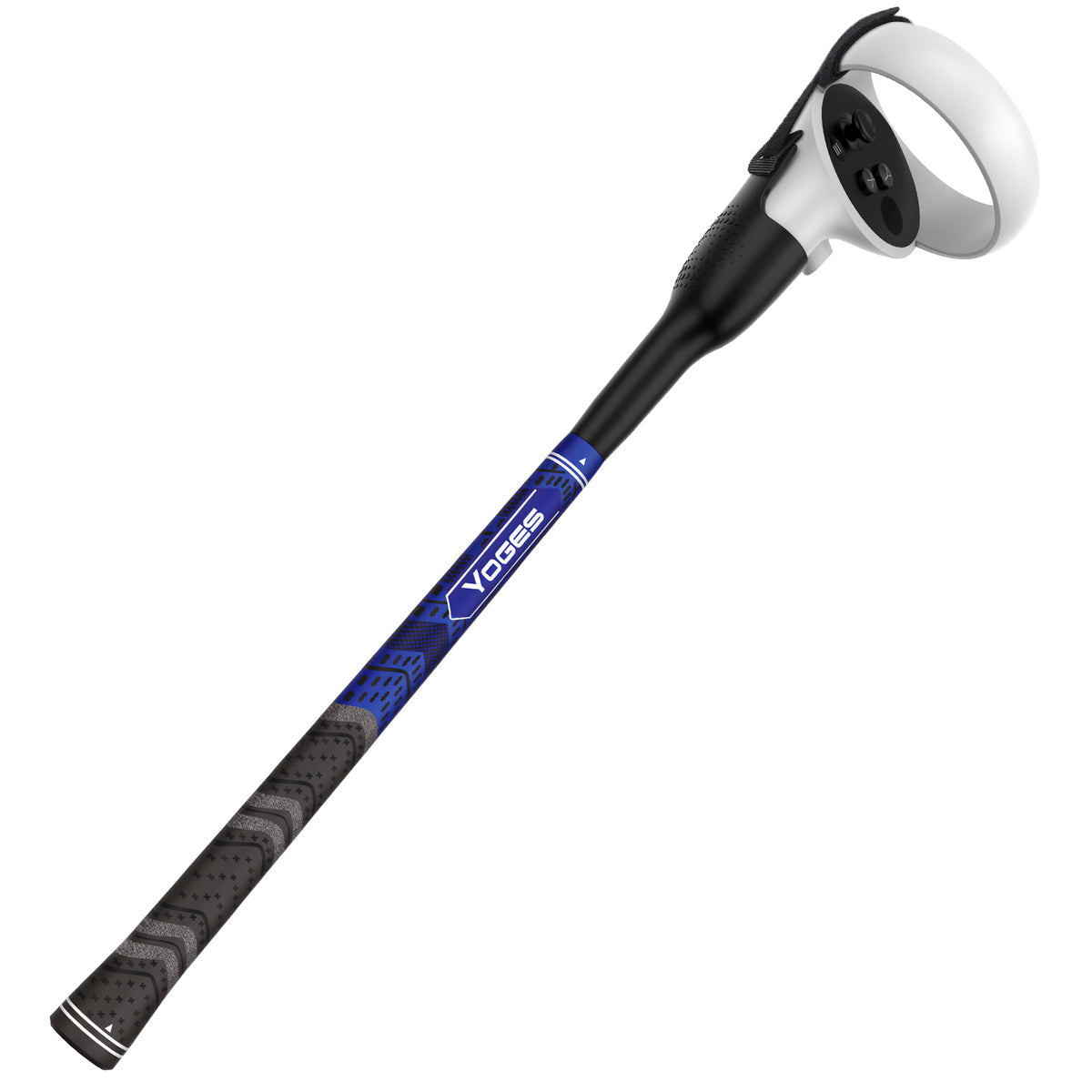 YOGES VR Q4 Golf Handle for Meta Quest 2 for Golf +, Walkabout Mini Golf, Golf 5 E Club