YogesVR Battery Head Strap Introduction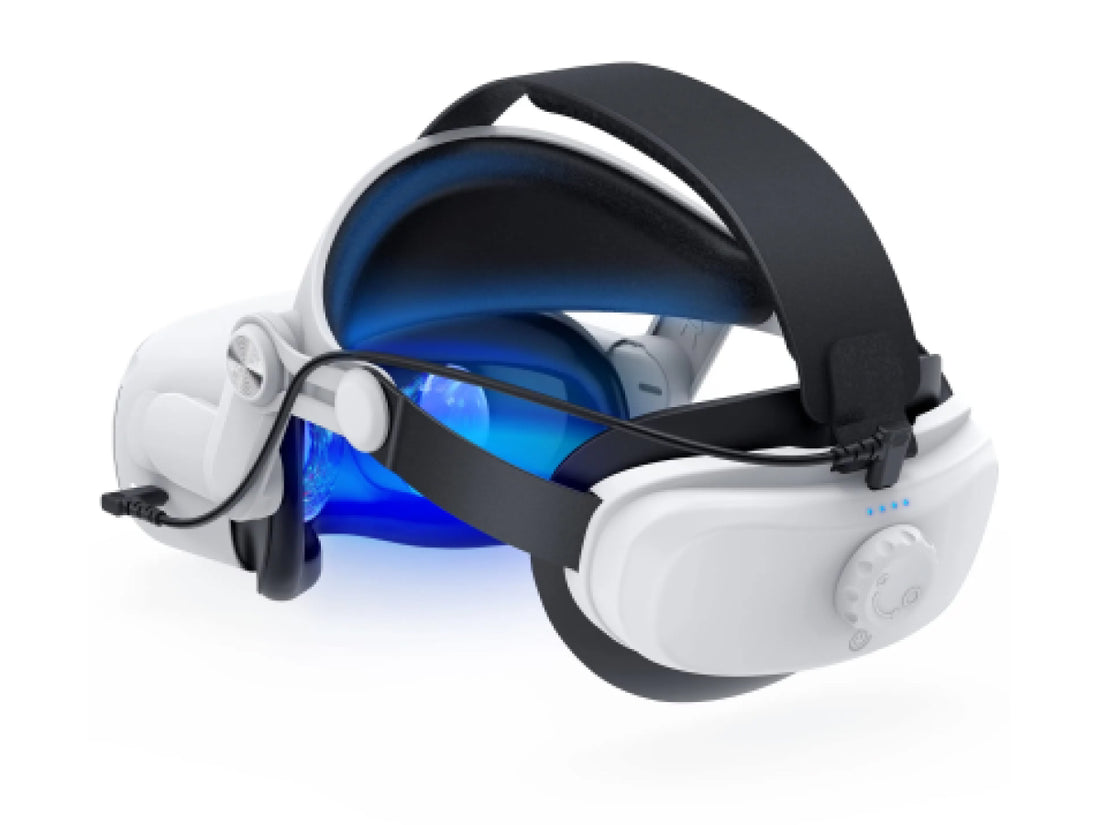 Over here at YogesVR, we live and breathe VR, and while we're always talking about Beat Saber and how to get the most out of your VR experiences, today we're going to talk a little bit about ourselves and one of the creations we're quite proud of.
This is the YogesVR Battery Head Strap - one of the essential gear for any VR gamer. 
It's a battery pack that you strap to your head, so you never have to worry about running out of juice in the middle of a gaming session. Plus, it looks pretty cool too. 
Let's waste no more time and dive in to take a closer look at this must-have piece of hardware.
Introduction of YogesVR
Introducing YogesVR, a virtual reality (VR) accessories company founded in 2016. 
They've been top of the leaderboard since their launch and delivering the most authentic and immersive VR experience around. 
With constant innovation and cutting-edge solutions, YogesVR has become a trusted name worldwide, ensuring all their users are one step ahead of their competition when it comes to leading the industry in next-generation technology. 
So for anyone searching for the ultimate in virtual reality gear, look no further than YogesVR!
What is the YogesVR Battery Head Strap?
The YogesVR Battery Headstrap is the ultimate accessory for any virtual reality enthusiast, and it's one of YogesVR's cornerstone products. 
With dozens of five-star reviews, this head strap is designed to power up any VR experience and take it to the next level with a sleek and minimalistic design. 
Now, let's dive into the facts.
🚀 - Comes with a 5,000mAh battery to extend your headset's battery life by three hours.
🚀 - A gravity-balanced design that maximizes precision and accuracy
🚀 - Upgraded materials with PU leather and breathable cushions
🚀 - Fully adjustable to comfortably fit gamers of all ages.
With up to three hours of battery life on a single charge, you can let your imagination run wild with stunning visuals and immersive gameplay that you never thought possible. 
This headset unlocks God Mode and allows you to enjoy VR like a pro!
How the YogesVR Battery Head Strap Works
We've tried to think of everything regarding this head strap.
Simply remove your default Quest 2 head strap and slip in this one, just like you would if you were cleaning it. Don't worry; it's quite simple, and step-by-step installation instructions are included.
Once installed, plug the head strap into your headset, and you're ready to go. Your Quest 2 will use up its battery, and the head strap's battery pack will kick in to keep you going for longer!
Then, adjust the straps so the device fits your head, and you're ready to go. The most comfortable and energized VR experience possible, all in the power of your hands!
Benefits of The Battery Head Strap for your Quest 2
If you own a Quest 2, life just got much better! 
The Battery Headstrap transforms your gaming experience by providing up to 3-4 additional hours of play on one charge (depending on what games or media you enjoy). 
No more need to worry about losing your immersive VR world when the battery runs out – the days of picking up wires and looking for chargers are over. 
With such an ergonomically engineered and comfortable fit, the Battery Head Strap adds convenience and ease to your go-to gaming accessory, making it even more enjoyable! It doesn't get much easier than this if you're a Quest 2 gamer.
Where to Purchase The VR Battery Head Strap And What It Costs
So, the big question is this - where do you go to get your hands on this game-changing device? 
Well, finding it couldn't be easier. 
Check out the YogesVR Battery Head Strap on the YogesVR website, or discover it on our Amazon page! Priced at only $59.99, this is one of the best VR investments around right now, and what better way is there to kick off 2023?
So what are you waiting for? 
Get out there and level up with a VR Battery Headstrap today!
And we have 4.7 stars on Trustpilot! 🚀🎆